The Next-generation Brand AKIKOAOKI is Currently Attracting Attention in Tokyo
Like COMME des GARÇONS and YOHJI YAMAMOTO in the past, and more recently TOGA and FACETASM, Japanese brands have grown to have a certain presence in Tokyo Fashion Week, and in most cases Tokyo Fashion Week serves as a venue to announce their entry into Europe and America. For this reason, it is extremely important for Tokyo Fashion Week to discover next-generation brands. AKIKOAOKI is a young person's brand that has steadily gained the attention to help her succeed over the past few seasons in Tokyo. There is anticipation over whether it will grow to spread its wings worldwide. We spoke to the person behind the brand.
Reality is Style
— Since spring/summer 2017, your precision seems to have increased exponentially. What changes have there been?
Until autumn/winter 2016-17, I was doing joint shows with newcomers who had their debuts around the same time as me, but even though the shows were done with their support, opinions were negative, because the content was disappointing. Naturally, I felt frustrated, and that I needed to try harder. Those feelings were definitive for my motivation, which lead me to the next stage. I was terribly hurt when people said harsh things. But I really enjoyed thinking about what I could do next.
I think that I'm optimistic, and fundamentally cheerful. Stress and inconvenience are important when creating something, but I want to take these things positively for my final output, because I believe that the destination we all aim for through fashion lies in the direction of positivity and love.
I originally liked items designed 'with a base', such as jackets, shirts and coats, and designs that seem to break down that base suit me. On the other hand, there are parts where I went with uniquely female emotions, and I think that my creations are made up these two sides.
I'm often told that my shows or clothes are 'feminine', but that does not mean they are sexual; I think it means that the emotional parts are expressed well. Though I am not aware of it, the clothes are incredibly sentimental, so they are feminine in that sense.
— You are notable for items that are bright, and work well in shows. Sometimes, these are interpreted as 'not real' in Japan.
I was surprised myself – people told me they wanted the item I had created as a showpiece more than I expected them to. I believe that customers don't differentiate between real pieces and showpieces, but judge a brand by its general feeling.
I've recently wondered what reality is. When I was attending Central Saint Martins, my friends in East London wore old, tattered clothes, and would always put on shoes that seemingly did not match. Generally, that fashion is not what you would call real, but it was close to their lifestyles and values, and so was stylish, and I though it was very real. I consider reality in relation to whether something can become a person's style, rather than whether it is easy to wear in their everyday life.
Simply put, 'become a style' is to be true and something that does not already exist. I want to properly offer, not impose, images of people of a new era, while grasping the feeling of the current one.
I want these clothes to be thought of as clothes women want to wear when they take their first steps, and when they face challenges; I myself do not want to feel afraid when facing a challenge. In order to become such a brand, I believe that it is important to improve quality in all areas: the quality of the products themselves, the approach as a brand, and the branding.
— There are many designers of womenswear brands who have succeeded in making themselves icons, but few of them wear their own clothes.
I am often asked, "Why don't you wear your own clothes when you appear in public?", and it's kind of embarrassing. Naturally, I don't create anything that I wouldn't want to wear myself, and I always focus on what I want to wear as a woman, but that is not my number one reason for creating.
I was originally interested in fashion as a reaction to always wearing school uniforms from nursery school to secondary school. I moved onto art college because I thought it would be a good environment to express myself in the contexts of design and art as well as fashion.
I wanted not just to learn skills, but to start facing fashion by constructing my own values. Even now, my parents say, "I can't believe you're doing fashion", because I really hated home economics lessons.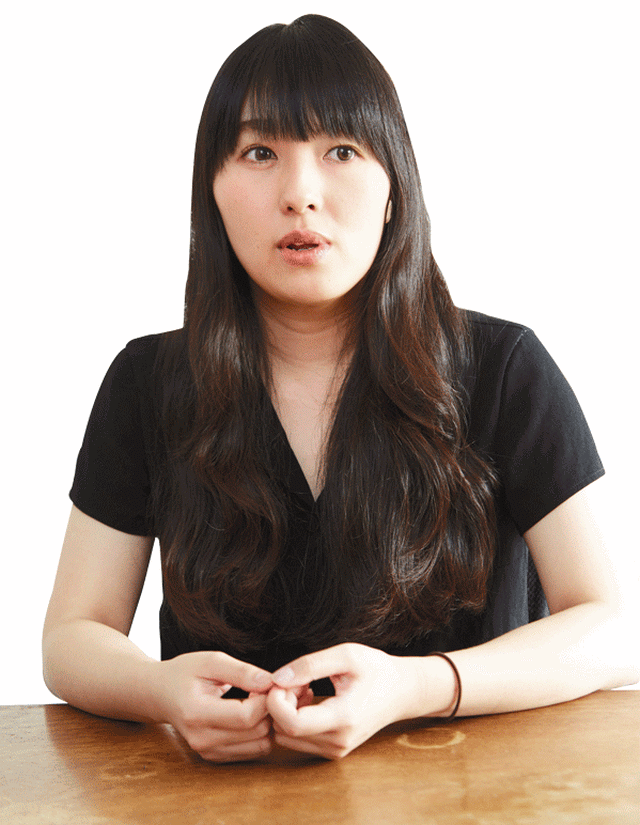 Akiko Aoki was born in Tokyo in 1986. After graduating from the Department of Cross-Disciplinary Art and Design in Joshibi University of Art and Design in 2009, she studied at Central Saint Martins College of Art and Design in London for a year. When she returned to Japan, she gained experience as an assistant with MIKIO SAKABE while attending coconogacco. In spring/summer 2015, she launched her own brand.
(Photograph: Tatsuro Kakishima)