Knitting Factories in Wakayama, Japan
Wakayama prefecture produces the highest volume of circular knitting goods in Japan. One of the most notable advantages is that they have been manufacturing products which other factories cannot by modifying very old machines. Many factories in Wakayama are very conscious about sustainability. These efforts have attracted more young workers to the factories in Wakayama ever than before.
The local leading company is A-GIRL'S CO., LTD. which has been exhibiting at Premier Vision in Paris every season since 2004; more than half of the sales of A-GIRL'S CO., LTD. has come from overseas since 2018. A-GIRL'S CO., LTD. has organized a team entitled LINK=AG, and it has been delivered merchandise made in Wakayama quickly through the strongly connected network with local companies. The lead time from making yarn to completing the garment is 30 days. All of the jersey products in JAMES PERSE are produced in Wakayama.
A-GIRL'S CO., LTD. has been investing approximately 100 million yen in machines in every year. The company purchases the first model of a new machine and modifies it so that the competitors who purchase the same machine cannot make the same kinds of merchandise. In KOMECHU Co., Ltd, one of the factories under LINK=AG, the young president who studied electrical engineering in university integrated a computer, which he designed himself, to the 100-year-old machines which he purchased from a sock factory in Nara prefecture. KANEMASA KNITTING CO., LTD. is the only factory in Japan which owns computer-aided jacquard machines that work with 36 to 46 gauge yarn. KANEMASA  skillfully produces woven-like high gauge knit.
FUJIBO Textile, Inc. is a dyeing factory that intentionally dyes fabric such as cotton wool blend or cotton cashmere blend which are difficult to be dyed so that the company can be differentiated from others. The company reduced the amount of water they use for dyeing by 33% as well as chemicals and electricity, aiming for a more sustainable process.
KINAN KNITTING CORP. has been putting more effort in developing original yarns as well as organic material. They mainly produce cotton yarns, as well as wool yarns. MORISHITA KNITTING FACTORY CO., LTD which has been wholesaling to THE ROW and TOM FORD has been producing more undyed colors and organic cotton.
OKADA TEXTILE which has been specialized in faux fur for women's wear has clients such as SACAI, COMME DES GARCONS, MONCLER, STELLA MCCARTNEY, LOUIS VUITTON, and PRADA. They mainly produce acrylic furs but the company has been switching to biodegradable material. OKADA owns automatic cutting machines specialized for fur, and the company therefore has been able to reduce fur loss. They offer cutting and shipping of fur material to their clients as well.
YOSHIDA SENKO CO., LTD. is the only factory in Japan which dyes yarns only at a totally automated facility including blending dyestuff. The factory has a wastewater treatment facility where the water is cleaned by using bacteria and then released to a First-class river. YOSHIDA SENKO also produces scarves made with biodegradable polyester yarns and organic cotton.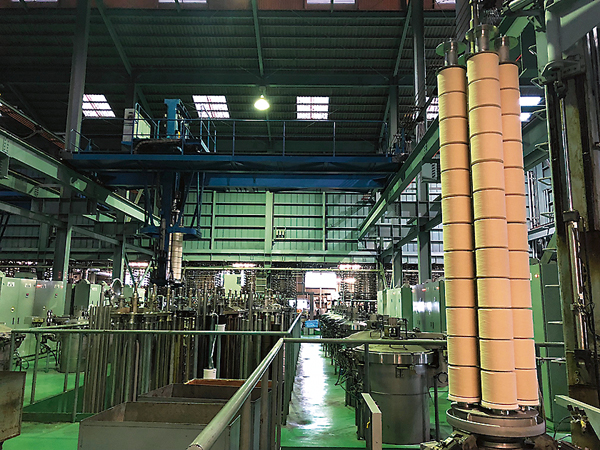 By Yoshiko Sugimoto