A men's select shop launched by a fashion YouTuber is creating quite a stir. There were 200 people lining up to enter popular YouTuber Hazumu's store DAN on the day it opened in Tokyo's Nakameguro district last March; the store raked in sales of 20 million yen in just one month. Since launching an e-commerce site in last September, DAN has been averaging 10 million yen in total monthly online and in-store sales. This YouTuber is utilising his video-making skills and internet presence to reach a broad audience and gain new customers. His store is also reviving the recently dwindling tateure trend of sales concentrating on identical items.
Half the stock sold on the first day
Hazumu has been interested in fashion since high school. He used to work at a store that buys and sells second hand brand clothing in Tokyo's Harajuku district; but when the store moved, he launched his own fashion information channel on YouTube in 2017 as a way to increase his income. "There was virtually no one else doing the same thing as me back then", he comments. Hazumu's YouTube channel subscribers gradually grew in number, reaching over 10,000 people in one month. Some of his younger viewers even came to the store where he worked to meet him.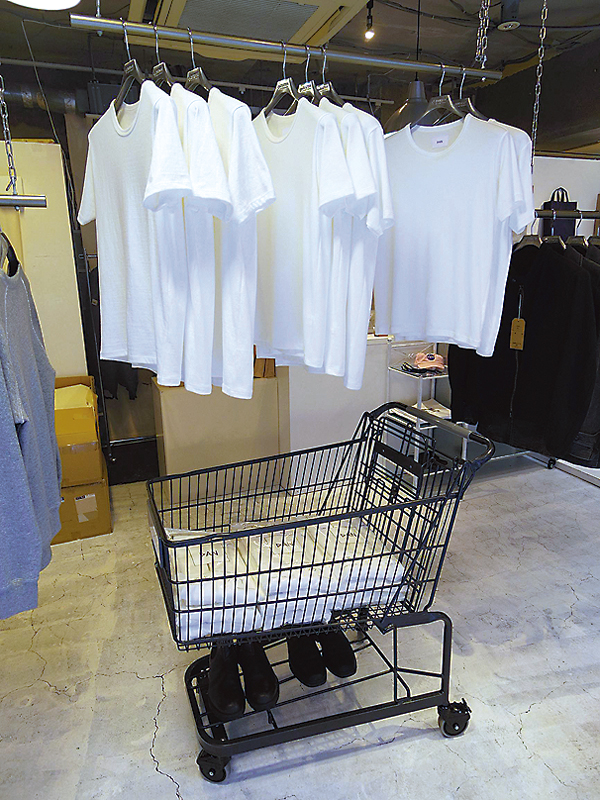 As he continued posting videos on YouTube and increasing his followers, Hazumu had the chance to open a pop-up store in Nakameguro. With the assistance of some brands he had featured in his videos so far, he managed to open the store DAN in a 50 square meter floor space. DAN got off to a flying start, with half of its store stock sold on its first day of business.
DAN remained open through April, during which it recorded sales of 10 million yen; this lead to its permanent establishment in May. DAN launched its e-commerce site in September, when it raked in 5 million yen each in in-store and online sales; this shifted to in-store sales of 7 million yen and online sales of 4 million yen in October. DAN was temporarily closed in late November for renovations, but it reopened soon in December.
Accessible videos
Hazumu's YouTube channel currently has over 100,000 subscribers. He usually uploads a new video every three days, and his policy is to "only feature clothes and items I've bought for myself."
Hazumu carefully looks up information on the internet on the brands and products he introduces, and explains what he likes about them in an easy-to-understand video. He prepares a script in advance, and spends around four to five hours doing other preparations to complete a single video. He tries to "explain the facts plainly, simply, and briefly", and in a way that makes it easy for the viewer to imagine situations where they can wear or use the featured items.
DAN's product line up is not displayed on a brand basis; instead, it focuses on a particular item of a certain brand. Similar to Hazumu's YouTube videos, the store clearly displays the items it's promoting, which faciliates tature sales that surprise even the manufacturers.
For instance, DAN has already sold over 100 pairs of jeans from the British brand TENDER, and it sold 130 bespoke wallets from the Japanese brand Shosa on the day it opened. The store also sells over 1000 accessories each year from the Japanese brand SIWA. All of these brands use high-quality and specially selected materials and particular production processes, so the products' prices are relatively high. There are also many manufacturers paying close attention to these popular and well-selling items.
Appealing to the fashion conscious-less audience as well
About 50% of DAN's customer base are in their 20s – the same age group as the 25-year-old Hazumu – and 30% are in their 30s; 90% of his customers have visited the store after watching his YouTube channel.
Interestingly, "about 50% of our customers have always loved clothes, but the other 50% have never been interested in fashion or aren't too fussed about what they're wearing." Some of the manufacturers DAN does business with are hopeful that "we can help them reach the somewhat fashion conscious-less customers, who are also avid internet users."
Hazumu intends to keep his YouTube channel as his main activity, while also running his store DAN. As always, he will first feature items on his YouTube channel, and then add them to DAN's product line up.
Since strengthening his brand partnerships in last September, Hazumu has also been considering developing products with some manufacturers. "A lot of people watch my YouTube channel" he comments; so in addition to his online store, if the circumstances are right, Hazumu may also launch pop-up stores in the regional cities that "many viewers have requested."