Current playmate for Playboy International, Bambi Watanabe has launched her own underwear line, Bushy Park. Given her "voyeuristic" line of work, she settled on underwear as a business start-up. Enlisting a gay friend to assist with the design, her interest in LGBTQ matters was piqued, so she resolved to develop underwear that would not be categorized by gender. The line-up has been selling online since September and will be offered through Beams from this spring.
At the age of 17, Watanabe entered a competition for the underwear brand Sloggi as the Japan representative, then joined an agency and began a career in entertainment. At 20, she walked away and travelled to New York, her favourite city. Upon returning to Japan, she appeared on stage and in variety shows, but at the age of 27 she realized it was not a sustainable path, and once again considered the direction of her life.
Deciding that "from now on, I want to pursue an eroticism that doesn't alienate women," she studied posing as a model by looking at foreign magazines, rather than following the typical pattern of the men's magazines found on the racks of Japanese convenience stores, then set out to find a suitable photographer. In 2018, she published a photo collection with Kodansha which became a bestseller. She then fulfilled a long-held wish to become a Playmate. With the thought that nude work in Japan might lead in unfortunate directions, she founded Bushy Park (Tokyo) as CEO and established it as a brand.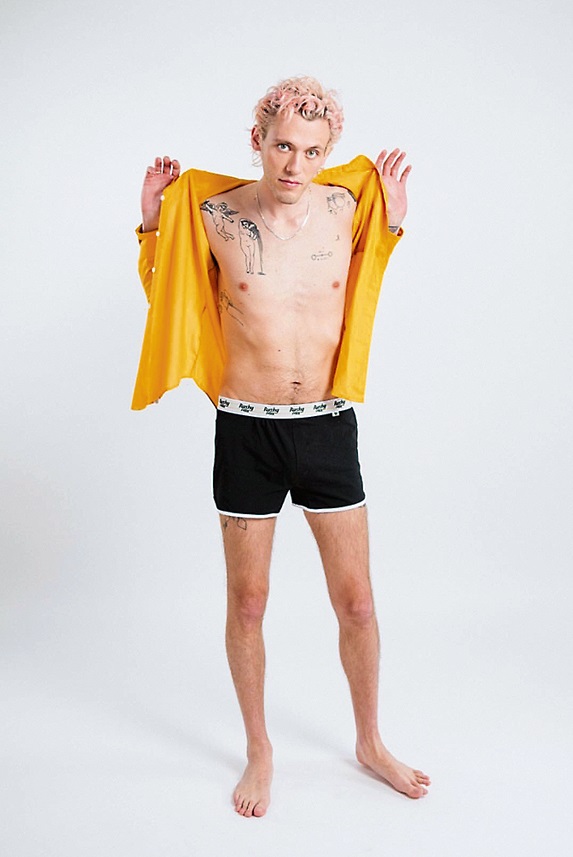 At first, she considered a men's line, says Watanabe, but "women in New York were wearing high-waisted underwear showing out above their jeans, and I wanted to wear that too." She has started with a brief and a boxer in M and L size, each with four colour options. They are made in Japan and priced at 3,500 yen. "They can be something to relax in around the house or worn at the gym as shorts."
Watanabe hopes Bushy Park will help to break down barriers. While she identifies as straight, she intends to put energy into supporting LGBTQ causes. New items to appear this spring include underwear with condom pocket sewn inside the back and stitching embossed on the front.