Japan's synthetic fibre manufacturers are making unprecedented moves to discharge their social responsibility and address developmental challenges. In the area of sport fabrics, they are introducing traceability for Spring/Summer 2021, environmentally certified production processes and more.
Sustainability is an ongoing theme for materials development in Japan, but there is a new trend afoot for Spring/Summer 2021 of initiatives to certify the transparency of the production process.
Since TORAY INDUSTRIES, INC. announced its fibre business brand &+ in September 2019 with the intention of recycled PET bottles as its feedstock, we have had our first glimpse of the resulting sports fabrics for Spring/Summer 2021. By adding specific agents to the base material, TORAY recycled fibre can be identified. Analysis of the fibre by the company guarantees its traceability.
Asahi Kasei Advance Corporation has developed ECOSENSOR, a series of fabrics produced in an eco-friendly way from the yarn to the dyeing process. Using recycled fibres, reused cellulose and organic cotton, for example, dyeing takes place in a plant boasting environmental certifications such as OEKO-TEX and bluesign. These fabrics are used across the company not just by the strong sports and outdoor segments but in collaboration with the casual wear and inner wear departments, too.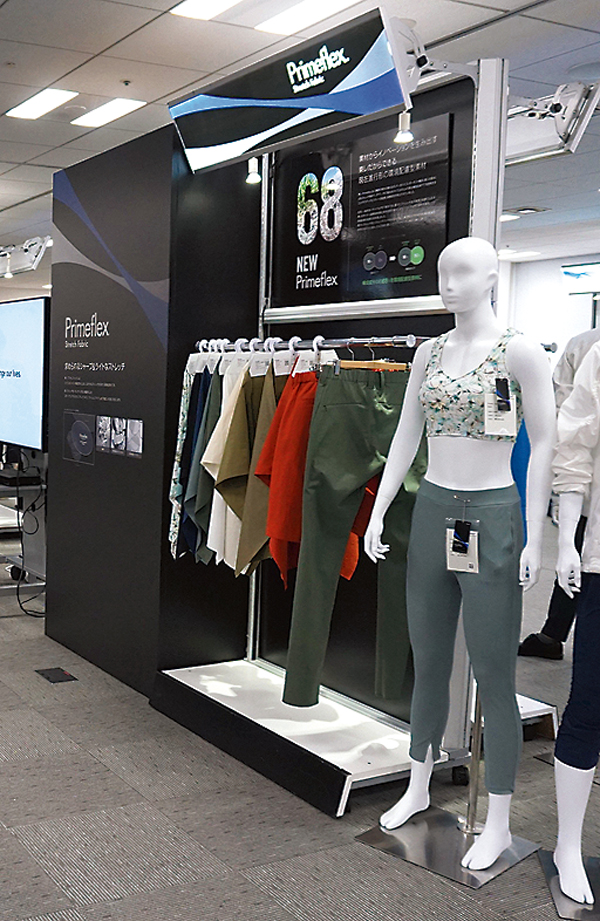 Existing achievements
Many companies in the Japanese textile sector took steps to conserve the environment, even before the global awareness of sustainability took hold. Measures are being taken even more boldly now as they leverage their depth of know-how and breadth of actions. Moreover, there is a trend to increasing the use of eco-friendly textiles that retain all of the functions of existing materials.
TEIJIN FRONTIER CO., LTD. has been selling its ECOPET polyester made from recycled PET bottles since 1995. Predominately used in sportswear and outerwear, this is an important textile with an entrenched market position.
TEIJIN FRONTIER promotes the use of recycled yarn by other material brands, one of which is SHADOW RIP, the light yet robust new polyester fabric. The cross-stitching of recycled polyester and powerful PASMO polyester of the same thickness creates a more tear-resistant material. Thick thread is no longer used, meaning that its anti-rip character pattern is not evident – rather, the material billows softly in the breeze. It is aimed at demand for the shell of down or cotton-inner jackets.
SEIREN CO., LTD. promotes the green credentials of the Group, which have been in place for some time.
The OEKO-TEX STANDARD 100 was acquired by SEIREN in 1991 (cloth and textile dyeing), by KB SEIREN, LTD. in 2000 (polyester thread, conductive thread), and by Saha Seiren Co., Ltd. (Thailand)'s Kabinburi factory (dyed synthetic textiles) in 2013. Bluesign certification was obtained by SEIREN for its clothing and fibre material production in 2014, while the SEIREN and Saha Seiren Kabinburi factory met the RCS (Recycled Claim Standard) in 2019.
TORAY has added a new eco-friendly element, Primeflex, which is made with a bimetal thread and is used for stretch fabrics vital to sportswear. Using fragments of film leftover from its factory floors together with polyester feedstock, as well as partial-bio PTT (Polytrimethylene Terephthalate), it is now 68% eco-friendly. It has the same stretch factor as Primeflex made from virgin feedstock.
New focus on water repellency
Most efforts to make water repellent clothing more eco-friendly begin and end with using a fluorine-free water repellency agent, but UNITIKA TRADING CO., LTD. has now released BIOMECA, a water repellency agent partly derived from vegetable oil. In combination with ECO FRIENDLY, the series of textiles made from recycled polyester, the company is able to promote the eco-friendly nature of both the thread/textile and its added functions.
It is also active in the development and promotion of a material that repels water by special shaping of the thread or textile surface. Adopting an inverted lotus leaf structure, the reduction in water repellency and durability from using PFOA-free materials is negated.
UNITIKA TRADING's ECO FRIENDLY recycled polyester material concept includes the recycled thread of the water repellent polyester TACTEEM. TEIJIN FRONTIER has added a stretch-type to its range of RECTAS water repellent fabrics.
TORAY is proposing the use of Nano Slit Nylon, a highly water repellent, highly durable modified cross-section thread with other TORAY functional textiles such as ENTRANT, the moisture-permeable, waterproof coated/laminated material.