Offering Higher Performance with Made-in-Japan Materials
Japan is known for its oppressively hot summers. Among the numerous measures being taken to handle Japan's extreme heat in preparation for the Tokyo Olympic and Paralympic Games, Electric Fan Wear (EF wear) is attracting increased attention in the apparel field. EF wear initially gained popularity among workers at construction sites, but it began spreading among regular consumers in 2018 as an increasing number of designs and types of EF wear became available in the market. Japan's high-performance materials are now expected to drive further growth in the category.
New Entrants Clamour into the Field
EF wear refers to clothing equipped with small electric fans used to cool the body. External air is drawn into the clothing and around the body, which aids the evaporation function of sweat in cooling the body.
A range of new products began appearing in 2018, driven by expected growth in the general consumer market for sports applications such as watching the Olympic and Paralympic Games, or as a measure to combat heat while working in the garden. Sports makers are now clamouring to enter the market with new EF wear offerings.
MIZUNO Corporation first launched EF wear for work uses in February 2018. Most products on the market were for professional use at the time, but MIZUNO launched an EF wear short-sleeved jacket anticipating its use in watching sporting events or while working in the home garden.
DESCENTE LTD. began test sales of an EF-equipped vest (Picture 1) in June 2019. The synthetic fibre manufacturer TEIJIN LIMITED developed a proprietary Smart Tube design in collaboration with the electric tool manufacturer Makita Corporation. The Smart Tube design allows air to be delivered without inflating the entire piece of clothing, enabling a more sophisticated silhouette. The air transfer tubes are sandwiched between the inner and outer layer of the clothing, also offering superb thermal exchange.
The outdoor wear import label BIGWING has developed EF wear (picture 2) in collaboration with a specialist EF wear manufacturer under its own original brand asobito. The company reimagined EF wear, which was primarily seen as work clothing, and presented it anew as mountain parkas and vests, with designs tailored to outdoor use.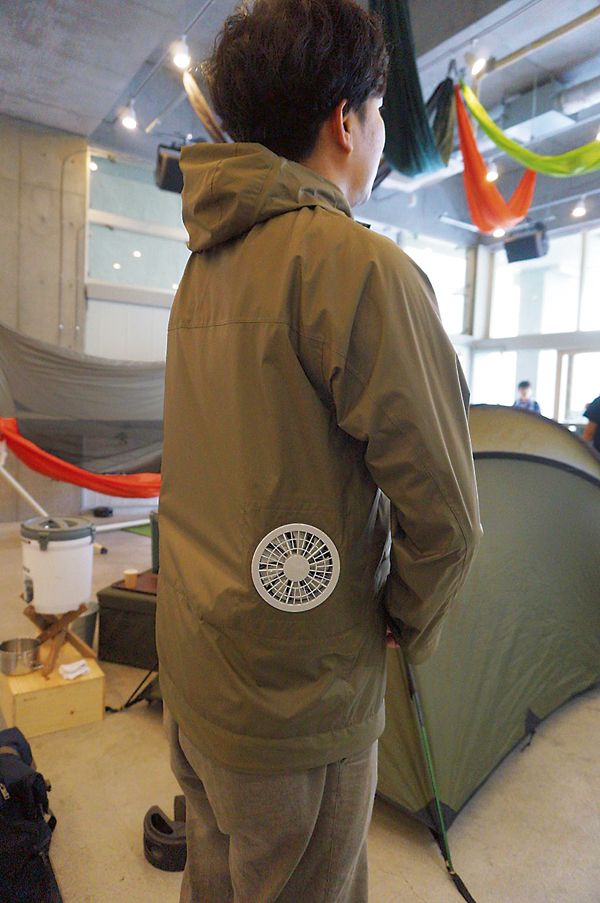 Fashion brands are also turning their attention to EF wear.
The men's apparel brand SOPH. launched sales of an EF wear uniform developed as part of an experimental project in a three-company alliance together with the design collective Fragment Design and the clothing manufacturer BURTLE Co., Ltd. The uniform is designed to be wearable as street wear, sporting a stylish silhouette even when the clothing is being ventilated.
The market for EF wear is expected to grow. Offering more choices in designs while providing the necessary features for various applications and increasing comfort will be crucial. High-performance made-in-Japan materials hold the key to these possibilities.
DESCENTE used the DELTA ®1000 high-density fabric by TEIJIN FRONTIER CO., LTD. as the surface material of its EF wear. It is a non-coated, lightweight fabric with water resistance of more than 1000 mm and excellent water repellence. These properties help prevent air loss in the clothing and allow a constant level of airflow to be maintained.
TORAY INDUSTRIES, INC. conducted a survey of people who wear EF wear clothing and is enhancing its material line-up based on their challenges and needs.
TORAY INDUSTRIES added heat shielding that blocks sunlight and heat, a cool-contact feel, and UV blocking features all while maintaining the low air permeability essential for EF wear. BODYSHELL®EX features fibres with the highest possible content of ceramic particles to offer high heat insulation and the highest possible sun protection rating of UPF50+ without coating. Results of wear testing at the company's artificial weather room showed a maximum 6.8-degrees-Celsius decrease in temperature and 25% decrease in stuffiness inside the clothing compared to regular materials.
UNITIKA TRADING CO., LTD. is promoting the use of its TUFLEX® fabric in EF wear, which requires low air permeability. TUFLEX is composed of ultra-fine polyester fibre woven at high density, and is treated for water repellence and calendering. This makes the fabric highly waterproof and repellent, all without a coating and while maintaining moisture permeability. UNITIKA TRADING also highlights the soft texture, light weight and easy handling of TUFLEX fabric.