There is a change of leader in the Women's ranking of "the most creative designers leading these times", as selected by department store directors and buyers of major select shops in Japan. Strong support for Balenciaga's Demna Gvasalia has kept him at the number one position for two years; but this year, Lucie and Luke Meier from Jil Sander have overpowered all others to take the top position. Meanwhile in the Men's International Division, directors working on themes for big-name brands have continued to dominate the top rankings. (Photo: Hirokazu Ohara, catwalking.com)
For the past several years, the Women's International Division has been topped by Balenciaga's Demna Gvasalia, Gucci's Alessandro Michele, LOEWE's Jonathan Anderson, and Maison Margiela's John Galliano in constant succession. This time though, the Meiers from Jil Sander's have leapt past this steady top order to reach number one.
The Meiers joined Jil Sander about 18 months ago, garnering much attention but without the support to propel them into the best 10 ranking. Their collection has Jil Sander's signature meticulous attention to detail and clean look, coupled with the Meier's own modern and light feel.
The have maintained the same style since their debut. Each season's collection has received slightly scattered reviews, and there is no reason to expect any sudden deviation from their signature style in the 2019 Spring-Summer Collection either. So why has support for the Meiers suddenly soared this time?
It's largely connected to the end of Phoebe Philo's collections for Céline.
The collections with the style Phoebe has established for the brand ended in the 2018 – 19 Autumn Winter season. This sent ardent Phoebe fans, who would purchase her clothes each season without fail, in search of alternative apparel that had an urban style with a clean and modern look. This is when the Meiers started to appear on the radar of many such fashion aficionados.
Since summer, we've been hearing many people murmur, "I want something from the Jil Sander collection." These clothes are created from carefully crafted materials, with a modern feel that is relatively free of decorative elements and a shape that snugly wraps around the body. The affluent mood exuded by these meticulously-made clothes also matches the feel of these times.
The buyers of major shops seemed to have also subtly sensed this mood, and support for the Meiers surged enough for them to topple Balenciaga to the number two position. "It's a clean and fresh collection that is conceptual, yet also not too stiff." (Takashimaya)
"The Meiers really understand what luxury and street wear are, and they create clothes from a completely different approach; they've gotten the mix just right. Starting with the 2019 Autumn-Winter collection, we're also looking forward to their new lines tailored to contemporary lifestyles." (The SECRETCLOSET)
"The Meiers creations carry on the DNA of past lines, while paying homage to nature. Their clothes are in sync with times, and each season feels fresh." (6/ROKU) "The Meiers pursue modernity and luxury by really reading the times and understanding its essence." (Isetan Mitsukoshi) Many buyers agreed that most adult customers are wearing the Meiers collection these days.
The Women's Domestic Division was once again topped by Chitose Abe from Sacai. Although the usual names made up the leading members, this time there was surprisingly only a slim margin between the number one ranked Abe and number two ranked Maiko Kurogouchi from Mame Kurogouchi.
This is Kurogouchi's second season at the Paris Collection, and her steadfast efforts have also earned high praise from buyers. She has been highly appraised for "beautifully blending Japanese and Western culture, and having a real appreciation of the world that extends to her unique use of color in originally developed materials, weaving and knitting techniques, and design and detail." (ESTNATION)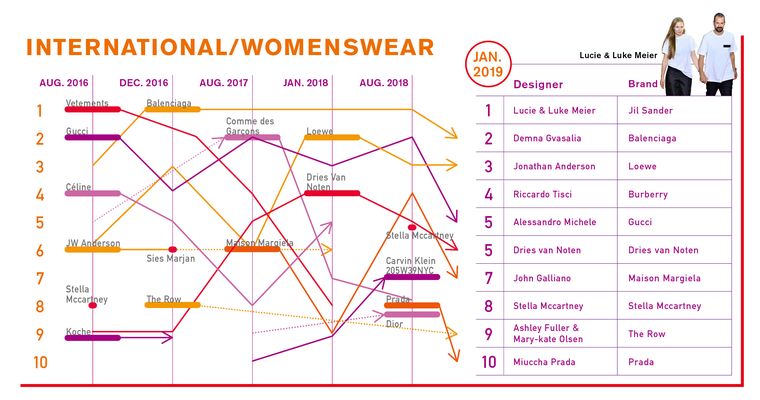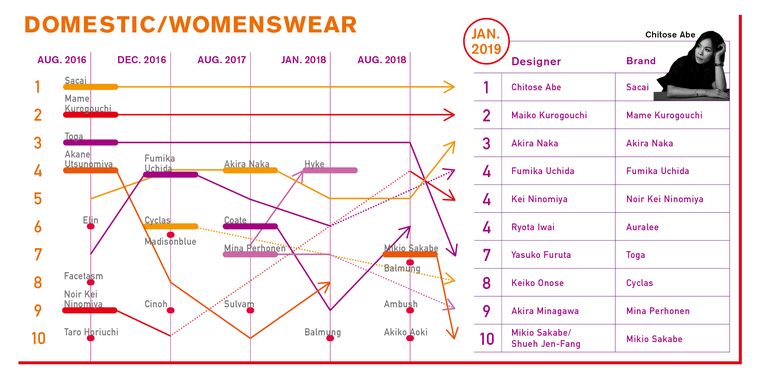 In the Men's International Division, the top rankings continue to be dominated by big names appointed as directors of major brands. Although the lineup remains virtually the same, there were some gaps in the voting numbers this time.
One name who stood above the rest was Kim Jones from Dior, who was recognized for skillfully combining street sense with a touch of elegance. "With his solid experience in manufacturing and aesthetic sense, coupled with an ability to incorporate a sporty and street look into the clothes, Jones is the man to work at a top brand." (Sogo & Seibu Co., Ltd.) "He has compelling collections with a wide appeal." (Matsuya) "The collaborative items with KAWS in December's 2019 Men's Summer Capsule Collection are a hit."
"He's managed to capture the new group of mass consumers who want to easily incorporate trends into their look; his strong sales are exceeding expectations." (Hankyu Hanshin Department Stores, Inc.)
Coming in second was Virgil Abloh from Louis Vuitton. The global look of his 2019 Spring-Summer Collection has won the hearts of not only his fans. "Virgil has skillfully captured a sporty yet elegant mood (in the 2019 Spring-Summer Collection) by combining his street taste, which is where his true value is, with the luxury feel that is symbolic of the brand. It's a brilliant collection that reminded us of his real talent." (BEAMS)
Ranked third was Hedi Slimane, who worked on Celine's first men's line and became a topic himself. "Slimane was the most influential designer in 2018. The tailored look he proposed in the sport-centered mode industry was nothing short of sensational." (PARIGOT)
Also in the rankings were Riccardo Tisci from Burberry, the Meiers from Jil Sander, and John Galliano from Maison Margiela, while Abloh and Gvasalia also earned votes for their signature brands.
In the Men's Domestic Division, the top positions were once again occupied by the major names of Sacai's Chitose Abe, Jun Takahashi from Undercover, and Doublet's Masayuki Ino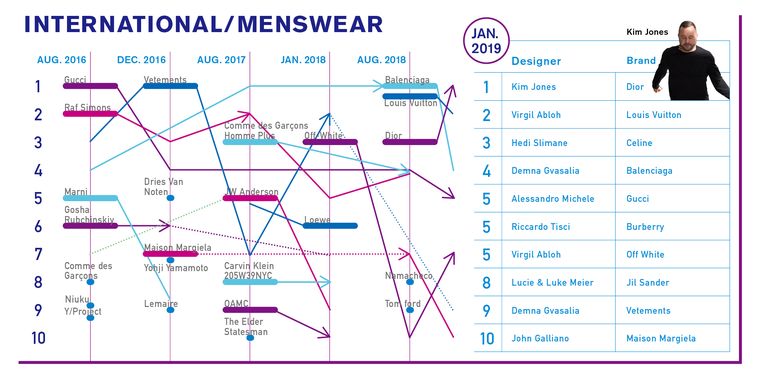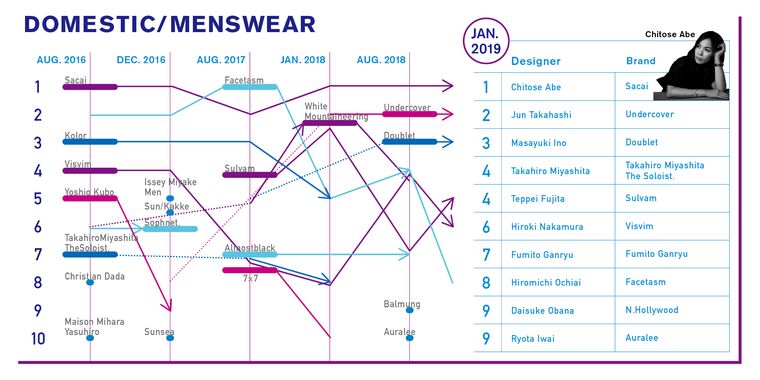 *The designer ranking comes out twice a year. The survey for this ranking was conducted at the end of December for the following collections: 2018-19 Autumn Winter, 2019 Pre-Spring and Resort, 2019 Spring-Summer, and 2019 Pre-Fall.
■ Stores participating in the survey
ADELAIDE/ADDITION ADELAIDE/CONCENT PARIS H.P.FRANCE/DAIMARU MATSUZAKAYA DEPARTMENT STORES/DESIGNWORKS/EDITION/ESTNATION/HANKYU HANSHIN DEPARTMENT STORES/IENA/INTERNATIONAL GALLERY BEAMS/ISETAN MITSUKOSHI/MATSUYA/PARIGOT/RESTIR/ROKU/RON HERMAN/SOGO&SEIBU/TAKASHIMAYA/THE SECRETCLOSET/TOMORROWLAND/UNITED ARROWS/VIA BUS STOP/WALL