Japan's leading outdoor apparel manufacturers GOLDWIN INC. and Snow Peak Inc. are looking to make a full-fledged entry into the U.S. market.
The apparel company GOLDWIN owns the trademark rights to The North Face brand in Japan and the Republic of Korea, and has developed it into a wildly popular brand. The company opened its first international store under its house brand name Goldwin in San Francisco in November 2019.
Snow Peak, on the other hand, is the camping goods manufacturer that ignited the camping boom in Japan. In April 2020, Snow Peak will open a strategic location in Portland, Oregon, combining both the headquarters of its North American business and a flagship store.
GOLDWIN has defined The North Face brand in Japan as a functional, simple, and stylish offering, tailored to Japanese tastes and figures, perfect for use in everyday life.
GOLDWIN has actively opened directly managed The North Face stores throughout Japan, making it easier to deliver its brand message directly to consumers, fostering the popularity of the brand. Based on GOLDWIN's financial results, sales for its outdoor business, which is dominated by The North Face, exceeded 65 billion yen for the fiscal period ending March 31, 2019.
GOLDWIN is now looking to transfer the product development and retail expertise it has built up through The North Face brand to its new original brand that is not bound by any regional sales restrictions. Goldwin started as a skiwear brand, but the company enhanced its product line-up in 2016 to encompass everyday use. GOLDWIN expanded the brand to include categories such as lifestyle, athletics and the outdoors, and opened its first flagship store open year-round in Marunouchi, Tokyo in November 2018.
The company then opened its first overseas store in San Francisco in November 2019.
The store is located on Jackson Street in Jackson Square, directly connected to the city's financial district. The store has 66 square meters of retail space, and its interior is based on a simple black and white look. The location does not target tourists, but rather the high-income demographic populated by Silicon Valley's IT and biotech professionals.
GOLDWIN is also developing the fashion apparel brand nanamika through its group company nanamika. There are currently four directly operated nanamika stores in Japan, and its goods can also be found at high-end specialty shops. nanamika also plans to open a street-facing store in New York in Spring 2020.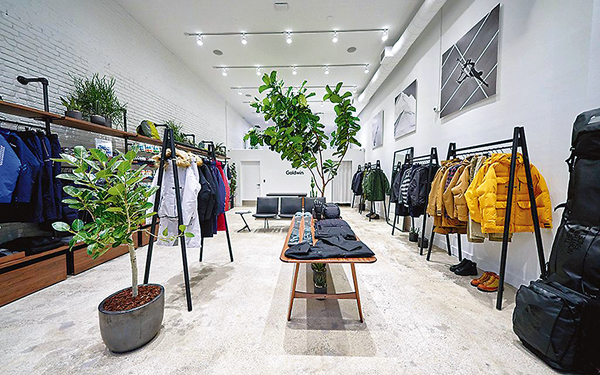 Snow Peak, on the other hand, is looking to bring the Japanese camping style to America.
Founded in 1958, Snow Peak features a unified taste in all its products, including tents, sleeping bags, tables, chairs, and kitchen sets. This allows fans who collect its products to enjoy a campsite with a total, coordinated look.
The asterisk mark serves as Snow Peak's design point, and based on the company's cool and simple atmosphere, it advocates a camping style known as "luxury camping." Snow Peak enjoys an enthusiastic customer base in Japan, and posted sales of 12 billion yen in the fiscal period ending December 2018.
Snow Peak began exporting to the United States in 1996, but could not define its brand with the same clarity seen in Japan, and goods for mountain climbers and backpackers formed the core of its sales. President Tohru Yamai therefore personally moved to Portland to take the lead in fully developing the U.S. market in May 2019.
Snow Peak's new strategy is founded on developing products specifically for the U.S. market. For example, the company is expanding the size range of its signature fireplace to account for American body types, adding an additional LL and XL size.
Snow Peak's new strategy location opening in April 2020 will be located in the fashionable Nob Hill area of Portland, featuring a directly operated Snow Peak store, restaurant, office and showroom all in one facility.
Snow Peak targets opening 40 to 50 stores in the United States, modelled after its directly managed store. These stores will serve as the base for the company to build up dedicated retail space in nearby outdoor specialty stores and other locations. Snow Peak is also considering directly operated campsites in the future. The company targets sales of 10 billion yen annually in the U.S. in five years.