The presence of factories, such as weaving shops and dyeing plants that possess a high level of technical skill, is vital in providing support for creating the spectacular world of fashion that we see. However, the number of production sites in Japan has been shrinking year by year due to factors such as the relocation of apparel manufacturing overseas. Numerous problems also confront the industry, including a lack of successors and rising costs. Nevertheless, even amidst such circumstances, there are still factories that continue to challenge themselves and manufacture products that others cannot imitate, by fusing the techniques they have built up over many years with new design sensibilities. Here, we feature some of the factories that have earned the trust of companies both in Japan and abroad.
Development that goes back to technique and weaving yarn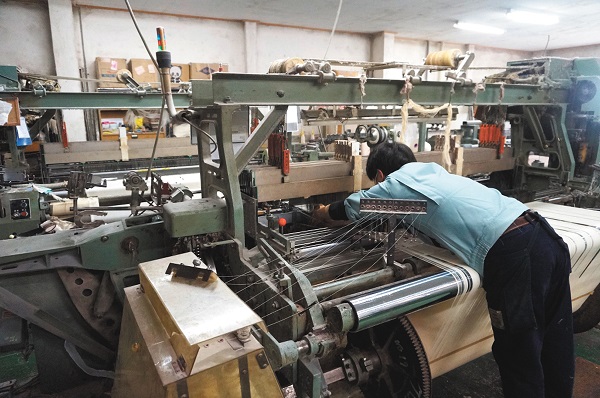 FUKUDA ORIMONO Ltd. is a textile manufacturer based in Shizuoka Prefecture, a region that produces cotton textiles. Despite being a small-scale manufacturer with less than 20 employees, the company is able to carry out planning, production, and sales. In addition to a textile mill, the company's premises also include a planning office where young employees in their 20s to 30s gather. Planning staff and engineers work closely together in an environment that encourages employees to tackle the challenge of new development. This was one of the first factories in Japan to launch its own sales initiatives for proprietary material. It also has many dealings with designer brands and leading apparel companies.
The company's best-selling material, which also led to its dramatic growth, is a fine-count cotton fabric. Ultra-fine thread that is even thinner than single yarn with a thread count of 100 is slowly woven using a loom that the company has remodelled itself. The fine, soft, and quality fabric is popularly used to produce cloth and stoles. Every season, FUKADA ORIMONO draws up plans for more than 100 marks of new materials, including a rich line-up of materials with changing surfaces such as velvet with geometric prints and strongly twisted dobby. It is also working to expand its overseas business by exhibiting its products in Milano Unica.
NIHON HOMESPUN, a tweed manufacturer, has built up a track record of designer brand customers, and continues to work with top European fashion maisons.
NIHON HOME SPUN'S warehouse holds a vast store of yarn, ranging from five to six types of raw wool produced in Australia, New Zealand and Japan, to silk, hemp, cotton, and synthetic fibres such as nylon and polyester. It creates 600 marks of prototype products per year using hand looms, and proposes new materials for domestic and overseas customers. Using low-speed shuttle looms, it produces tweed and other products with superior texture and excellent designs.
Combining artisanal skills with a youthful sensibility
NISHIDA SENKOU and HISAYAMA SENKOU from Kyoto are two companies that are making a major impact in the field of print processing. Both of these factories are adding their design sensibility to fabrics by applying delicate prints onto hand-printed base fabric.
NISHIDA SENKOU has its roots as a hand-printing factory for Japanese clothing such as kimono and obi belts. Today, it has 24 hand-printing machines screens and three semi-automatic screen printing machines. It is also able to produce double-width textiles.
The company excels in complicated yet rich print processing, combining complex prints that involve the overlaying of more than 10 screens on one fabric, with hand-printing, screen printing, and rotary printing techniques. It employs young people for both planning and sales as well as artisanal work, and adopts a proactive stance toward nurturing human resources.
The current president of NISHIDA SENKOU, who has a background in apparel manufacturing, emphasizes that when it comes to work, the company places great importance on "fundamental skills such as the methods of aligning or pasting fabric on the printing table." The accumulation of such detailed work and their consciousness toward it has won them the trust of customers, as well as a growing volume of orders from overseas.
The characteristics of HISAYAMA SENKOU, which specialises in hand-printing, is its unique and highly detailed planning capabilities backed by its technical prowess. The only equipment that the company owns are six hand-printing machines for textiles of width 112cm and length 25m. The number of employees is also small but elite, and the company boasts a customer base of more than 100 companies spread across Japan and other countries. Founded in 1989, it is a relatively new company compared to other dyeing factories in Kyoto. Even so, it has continued to hone its hand-printing skills and sell its products.
HISAYAMA SENKOU procures the base fabric itself, and plans more than 100 marks of new material each season. Other than domestic customers, it has also served many top fashion maisons in Europe and America. It also engages the cooperation of partner factories nearby to create fabrics processed in various ways, such as opal, fabric-fulling and flocking. While they look deceptively simple, the production of these fabrics involves numerous processes, and the end result is highly appraised by professionals.
The company also excels in incorporating the images that customers have into the actual fabric. For example, when faced with the request to create a fabric that resembles crocodile skin, it fulfilled the demand by mounting resin-coated Japanese paper onto the base wool textile, and sticking on only the parts that form the scales of the crocodile's skin. To finish, the excess Japanese paper was removed to reveal the image of crocodile skin. The company is keeping up its efforts in processing development through the creative application of traditional Japanese techniques such as the batik printing method.
Planning and production in cooperation with different industries
KYOTO Leather, established by Kyo-yuzen and Nishijin Ori artisans and studios, is a collaborative project launched by tanners in Himeji, the largest leather production region in Japan.
In 2015, it became the first Japanese corporation to exhibit at Premiere Vision Leather. As a new leather brand that combines techniques such as prints, lacquered gold leaf processing, and embroidery on domestically produced leather, the company is actively promoting its products around the world. At the Premiere Vision trade fair, the company's booth was frequently visited by influential brands. It has already engaged in business negotiations with more than 20 brands, and some of these have led to the commercialisation of its products.